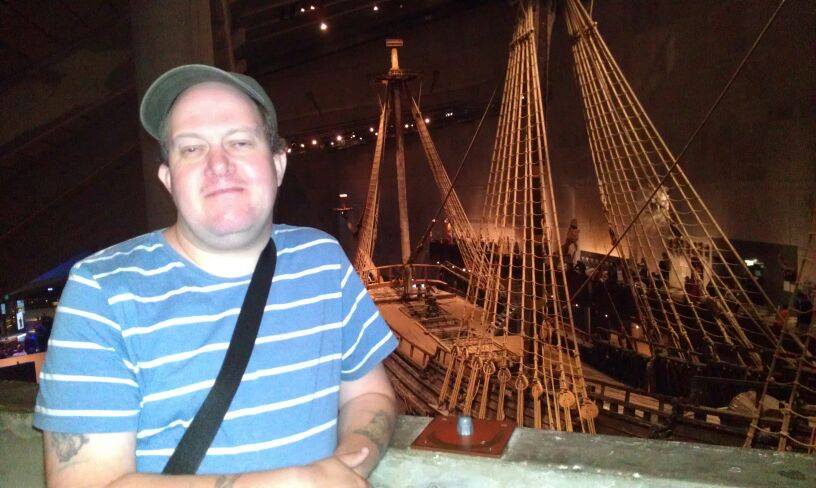 My Vasa Interest
My name is Per-Gunnar Svensson and have created this website about Royal Warship Vasa.

All started when my teacher Brigitta read "The Vasa saga" in primary school. My grandfather said we were going and look at the ship. We did that. And at the Wasa Shipyard fell in love with this ship and her story.
There have been and will be many visits to the Vasa Museum. Vasa can trigger the imagination with her story. She is unique. She is the only surviving ship from e 17th century.
Vasa brought an interest in old dance music. Music from the late 14th century and the early 17th century is wonderful to listen to.
Today I am a member of Vasa friends and go at the museum as often as I can.
We may not be able to have her for all eternity, but in our hearts will Vasa and her crew always sail.
Mitt Vasa intresse
Jag heter Per-Gunnar Svennson och är webmaster för denna sida.
Det hela började när min fröken Birgitta läste Sagan om Vasa i myshörnan i årskurs 2 Min farfar tyckte att vi skulle åka och titta på skeppet. Det gjorde vi och jag blev helt såld på skeppet och dess historia.
Sedan dess har jag massor av gånger besökt Vasamuseet både på gamla och nya. Vasa trollbinder båda vuxna och gamla med sin unika historia. Det är ju det enda skeppet i världen som är bevarat från tidigt 1600-tal.
Vasa fick mig att börja lyssna på dansmusik från 1500- och 1600-talen. Det var den gamla Vasafilmen, med gruppen Juculatores Upsalienses som gjorde filmens soundtrack, som fick mig att bli intresserad. Den musiken är verkligen spännande att lyssna på. Att gå på Vasamuseet och höra musiken i lurarna och titta på skeppet ger Vasa en levande bild.
Idag är jag medlem i Vasas vänner och går på museet så ofta jag kan.
Vasa kanske vi inte kommer att få behålla i all framtid men Vasa och hennes besättning och historia kommer att alltid ha en speciell plats i mitt hjärta.